On the Campaign Trail with Joan Jett Blakk
Glenn Belverio | 1992 | 00:29:00 | United States | English | Color | Mono | 4:3 | Hi8 video
On the Campaign Trail with Joan Jett Blakk
On the Campaign Trail with Joan Jett Blakk is an interview with the 1992 presidential hopeful on her run to become "the first queer, Black, drag queen president" (Joan Jett Blakk, 1992). The interview was produced by Glenn Belverio, co-host of The Glennda and Brenda Show, a popular drag activist talk show which ran on Manhattan Cable television from 1990-96. In New York City, outside the Democratic Convention, the pair discuss Ms. Blakk's campaign with interested onlookers, protesters, and friends.
"What we really need in this country is more glamour and less clamor, I mean that's all that's going on over there [at the Democratic Convention] is nothing but a lot of clamor, and we're going to bring more beauty back to the White House; in fact, we're going to make it America the beautiful, once again."
— Joan Jett Blakk, On the Campaign Trail with Joan Jett Blakk, 1992
Love what you're watching? On the Campaign Trail with Joan Jett Blakk is now available!
Order this video and others by Glenn Belverio on vdb.org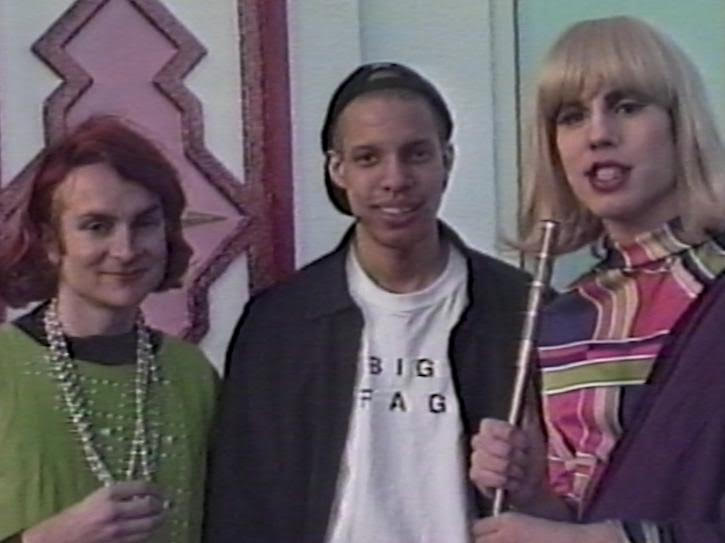 ---
Glenn Belverio is an independent film and video maker who lives and works in New York City. He began producing and co-hosting the popular Manhattan Cable series The Brenda and Glennda Show in 1990, a talk show that took the art of drag out of the nightclubs and into the streets, mixing politics with humor. In 1993, the series became Glennda and Friends, a post-queer talk show featuring provocative co-stars such as gay pornographer Bruce LaBruce and guerrilla scholar Camille Paglia. Belverio and Paglia's collaborative project Glennda and Camille Do Downtown later became a short film, and was well received at the 1994 Sundance Film Festival. Glenn's work has screened at venues such as the Institute of Contemporary Arts, London, and the New Museum, NY. Glennda and Camille Do Downtown won the Best Short Documentary prize at the 1994 Chicago Underground Film Festival.
Featured titles
In this episode of The Brenda and Glennda Show, Glennda meets up with guest co-host Joan Jett Blakk to discuss Blakk's 1992 presidential run. The pair interview people on the street outside of the 1992 Democratic Convention. They discuss topics including the police state, weaknesses of the two-party political system, feminism, and political elitism.
An episode of The Brenda and Glennda Show, hosted by Brenda Sexual and Glennda Orgasm. This episode was co-hosted by guest star Joan Jett Blakk.
About VDB TV
VDB TV is an innovative digital distribution project which provides free, online streaming access to curated programs of video and media art. Sourced from the historically significant archives of the Video Data Bank, VDB TV will include work from early video pioneers active in the 1960s and 70s, through to emerging contemporary artists. VDB TV offers viewers across the United States and beyond access to rare video art, the opportunity to engage with programs conceived by a wide range of curators, and original writing, all while ensuring that artists are compensated for their work.
Our Funder