Video Data Bank Interviews

This section comprises taped interviews with artists, architects, musicians, critics and other creative practitioners, recorded in conversation with Video Data Bank staff, colleagues from the School of the Art Institute faculty, and others knowledgeable about the particular interviewees work.
The first interview dates from 1976, the year of VDB's official inauguration, and VDB continues to add to the collection to this day, recording and producing approximately ten new interviews a year.  Many of the interviewees are guests of S AIC departments, such as the Visiting Artists program or Conversations at the Edge screening series, or invitees of the Society for Contemporary Art.  The VDB interviews supplement these visits, allowing for an in-depth conversation that underlines the development of an artists' practice.
Although trained as an art historian, Jeff Wall has been working on his expansive photographic light boxes of staged scenes for more than 25 years. Using back-lit, photographic transparencies typically used for advertising display, Wall subverts their commercial association by filling them with quotidian objects.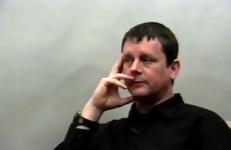 Eyal Weizman is a British-Israeli architect and academic. He's the founder of Forensic Architecture, which uses architectural research to investigate violations of human rights around the world. In this interview, Weizman discusses his career and the importance of Forensic Architecture's work with Jonathan Solomon, Director of the Department of Architecture, Interior Architecture, and Designed Objects at the School of the Art Institute of Chicago.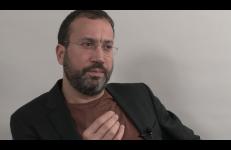 Linda Williams writes on what she calls "body genres": melodrama, horror, and, most famously, pornography. One of the most influential feminist film scholars to emerge in the 1980s, she wrote important essays on the women's film (melodrama) before publishing her most influential work, Hard Core: Power, Pleasure, and the Frenzy of the Visible (1989 and 1999).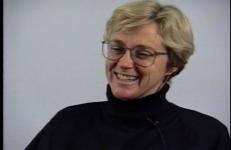 Pat Ward Williams's socially charged works confront issues of race, often dealing specifically with African American history and identity. Using a variety of photographic processes, video, audio tapes, assemblage and text, Williams layers meanings and images. Her subjects range from the autobiographical to the public, often combining documentary techniques with personal responses. "When I make photos about my family, I think my family is not a lot different than other peoples' families, so that is a way people can access my work...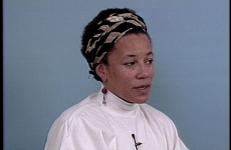 David Wilson is the founder and curator of the Museum of Jurassic Technology in Los Angeles. His collection of found and contributed objects provides an astonishing array of materials derived from craft and nature. Interview by Rachel Weiss. A historical interview originally recorded in 1998.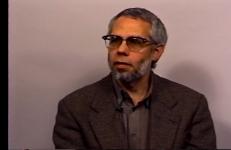 Feminist performance artist, Martha Wilson (b.1947), is director and founder of the alternative New York art space, Franklin Furnace Gallery, in operation since 1976. In this interview, Wilson discusses her Quaker upbringing, the impetus for her move from Nova Scotia to New York, and the founding of Franklin Furnace, as well as her involvement in the feminist punk band collective Disband.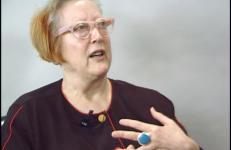 Born in 1943 in Poland, Wodiczko lives and works in New York and Cambridge, MA, where he has been professor at MIT since 1991. Wodiczko is best known for his large-scale slide and video projections, which amplify political issues locally to their place of installation. Rather than use a screen or gallery wall as backdrop, Wodiczko projects these pieces onto public edifices and monuments, making explicit on their very surfaces the communal contexts and myths or ideologies that they represent.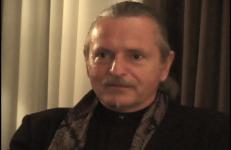 Ming Wong creates videos that explore performance and issues of race and gender. Born in Singapore of Chinese heritage, and now based in Berlin, his work examines cross-cultural experiences by appropriating scenes of iconic world cinema. Wong casts himself anachronistically as the star, critically exposing the otherness of the relationship of media and world history.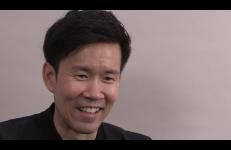 As a well-known painter and collagist, teacher at the School of the Art Institute of Chicago and mentor to the Chicago Imagists, Ray Yoshida (1930-2009) had far reaching influence. In this interview, Yoshida offers a tour of his home, showing us the unique dolls, masks, trinkets and tattoo art from which he drew inspiration. Describing his own stylistic progression from the late 1950s to the early 1970s, Yoshida also talks about the collage aesthetic and persistence of visual complication in the Chicago Imagist style, demonstrating its various permutations by showing off his collection of works by former students at SAIC. A lover of curiosities, Yoshida also describes discussions he had with Chicago artist Roger Brown about opening a museum for their vast collections of oddities.
— Kyle Riley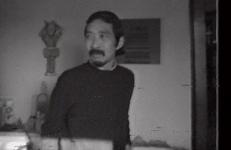 In this interview, communications theorist, Gene Youngblood (b. 1942) maps out the various stages of the development of video technology and its philosophical implications for human interaction. The range of topics discussed moves beyond video to offer an extensive and rich survey of American culture from the 1960s to the present moment. In addition to discussing his canonical text, Expanded Cinema, Youngblood shares stories from his early days as a police reporter for the Los Angeles Herald Examiner, where he gained intimate knowledge of the media's politics of representation. With the acuity of hindsight, Youngblood discusses important self-discoveries, and his life-changing decision to move from the mainstream media into the world of the underground press.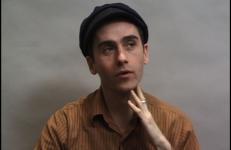 1970 marked the publication of Gene Youngblood's now-formative Expanded Cinema – a text that was instrumental in legitimizing video and new media as viable and serious artistic forms. Youngblood went on to a career in both practice and theory, making a life's work of championing the uses of video towards both social and political ends. This interview, conducted at SAIC, comes seven years after the release of Expanded Cinema and details its author's primarily philosophic concerns with the medium of video.