Reality-Effects: Video Data Bank 6th Annual Showcase (May 18th)
On Sunday, May 18th, we will partner with Chicago's Roots & Culture Gallery, to showcase a thrilling selection of new acquisitions of experimental video art. Join VDB staff for this free event as we share a few of the most exciting and groundbreaking works that we have recently taken into distribution.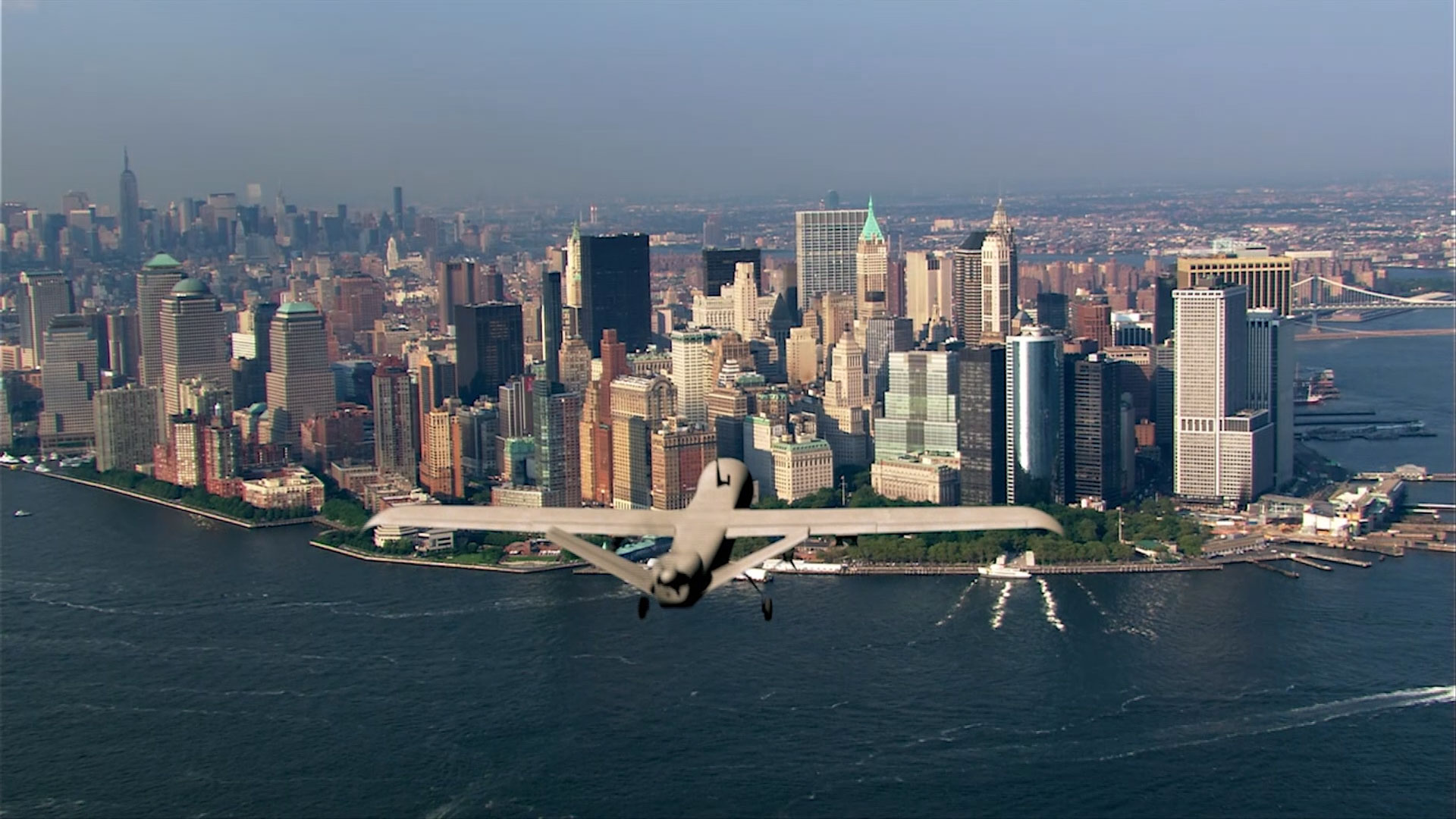 The Freestone Drone, George Barber
---
Reality-Effects: Video Data Bank 6th Annual Showcase


Roots & Culture
1034 N. Milwaukee
Chicago, IL 60622 (Map)
773.580.0102
Sunday May 18th, 7:30 p.m.
Free (RSVP welcome)
---
2014 VDB Showcase at Roots & Culture
Ursula Biemann, Deep Weather
2013, 8:58, Switzerland, English, color, stereo, 16:9, HD video
Water and oil form the undercurrents of all narrations as they activate profound changes in the planetary ecology. Melting Himalayan ice fields, rising planetary sea levels, and extreme weather events increasingly impose an amphibian lifestyle on the Bangladeshi population. Gigantic machine-less efforts are made by communities to build protective mud embankments in the delta where large parts will soon be submerged and water is declared the territory of citizenship.
George Barber, The Freestone Drone
2013, 12:55, U.K., English, color, stereo, 16:9, HD video
Unmanned Aerial Vehicles – drones – have become an everyday feature of contemporary military activity, replacing humans in reconnaissance flights, small-scale combat missions and covert operations. The U.S. Army operates some ten thousands UAVs – a six-fold increase during Obama's term – deploying them over locations like Pakistan and Yemen. The Freestone Drone follows a mission from the point of view of the machine. The drone's camera surveys cityscapes, encounters individuals, reports, and in flight becomes aware of its own utility and destiny. Drone operators routinely study the washing to learn about their targets – it is foretold that the Freestone Drone is to die entangled in a clothesline.
Emily Vey Duke and Cooper Battersby, Here is Everything
2013, 13:54, Canada/U.S., English, color, stereo, 16:9, HD video
"Here is Everything presents itself as a message from The Future, as narrated by a cat and a rabbit, spirit guides who explain that they've decided to speak to us via a contemporary art video because they understand this to be our highest form of communication. Their cheeky introduction, however, belies the complex set of ideas that fill the remainder of the film. Death, God, and attaining and maintaining a state of Grace are among the thematic strokes winding their way through the piece, rapturously illustrated with animation, still and video imagery." -- Emily Vey Duke and Cooper Battersby
Peer Bode, Front Hand Back Hand
1977, 2:57, U.S., English, color, mono, 4:3, 1/2" open reel video
"Actions, states, one B+W video camera, the Paik Abe Colorizer, a video switcher. The two states, a b a b, I put my hand in the camera frame and saw a colored hand shifting. I moved my, the, hand, including back and forth, realizing or connecting to the visual and language potential of front hand and back hand. Giving it some veracity, the pace became about attempting to keep up with the position changes together with verbally reciting front hand back hand, co-coordinating from hand to mouth and mouth to hand." -- Peer Bode
Harun Farocki, Parallel I
2012, 17:11, Germany, color, stereo, 16:9, video
Using the example of trees and bushes, water, fire and clouds, we compare the development of surfaces and colourings over the past thirty years in computer animation images. We want to document reality-effects such as reflections, clouds, and smoke in their evolutionary history." -- Harun Farocki
robbinschilds & A.L. Steiner, C.L.U.E. (color location ultimate experience), Part 1
2007, 10:47, U.S., color, stereo, 4:3, DV video
Inhabiting the intersection of human movement and architecture, A.L. Steiner and robbinschilds (Sonya Robbins and Layla Childs) in collaboration with AJ Blandford, present a full-spectrum video, set to a score by rock quartet Kinski. Edited in succinct rainbow-hued sections, each sequence features robbinschilds in monochromatic gear, acting in psychedelic contrast and communion with their surroundings. The artists traverse through desolate desert landscapes, darkened parking lots, and geological formations, responding to the environment through choreographed duets. In a style that is obsessive, persistent, and often humorous, robbinschilds reveals their observations of the human imprint on the world.