VDB Asks... Lawrence Andrews
California-based artist Lawrence Andrews focuses on issues of race, identity and power through a cross-disiplinary practice that spans video, photography, installation and audio. He has shown extensively throughout the U.S. and internationally on cable television, major film and art festivals, in museums and galleries, including the Whitney Biennial, The New York Museum of Modern Art, The San Francisco Museum of Modern Art, Pacific Film Archive, and The American Film Institute. He has received various grants awards and fellowships in support of his work including a Rockefeller Intercultural Documentary Fellowship, and two National Endowment for the Arts Artist Fellowships.
VDB was pleased to release a new project by Andrews in 2014, a hybrid of performance, animation and found elements that offers a meditation on Hurricane Katrina and its aftermath. Years in the making, Andrew's ownerbuilt offers an intriguing and powerful portrait of a neighborhood's spiritual reconstruction. In conjunction with this major release, VDB sat down with the artist to discuss his influences.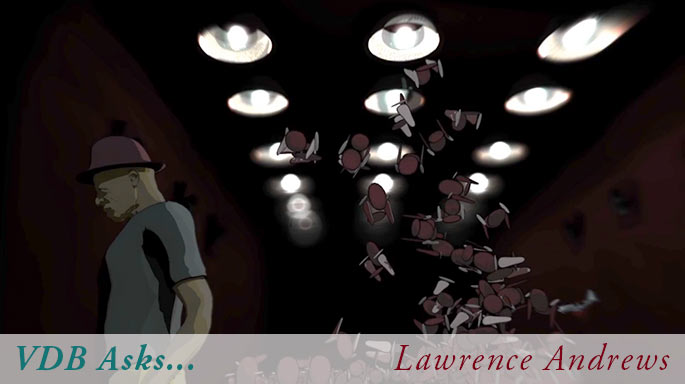 1. Can you tell us something about your background?
My dad was a barber, who decided one day to work his way through law school, which landed the family in Washington DC. He studied while my mom worked at the phone company. As a kid, to escape the summer DC heat, I roamed the National Archive, Smithsonian museums, and the Library of Congress. One day it dawned on me….. the architecture, the immensity of it all. On one of my wanderings I discovered that the Corcoran Museum had an art school in the basement. (Unfortunately I don't think you can randomly wander the halls of the Capitol anymore.)
2. What inspired you to become an artist? To use video?
Maybe I came to art indirectly by way of photojournalism. The world came to DC to protest and there was always something happening and I had my mom's camera. I also went to an alternative high school called The School Without Walls. I remember in one of my classes we ended up in this guy's home who had wrapped everything in his apartment in aluminum foil, adding flushes of detail here and there. I am sure he is a well-known DC artist but I can't name him. I just remember having my mind blown, not sure what to do with it all. New doors opened. Also my dad always had an unfinished canvas in the corner of the living room. I don't remember seeing him paint but the set up was always there. Video came into my world as a form of expression in my studies at the San Francisco Art Institute, I got a scholarship to study photography there and I stumbled upon the Performance / Video Department, which I think at the time was just getting off the ground. There was an enormous amount of energy generated by the faculty and students. It was a special and influential time, and again new doors opened.
3. Did you have formal art training/schooling?
BFA SFAI
4. How do you balance life and art? Are you able to make a living through creating art?
I don't know if I would talk in terms of balance, as it foregrounds dichotomy and for me there is an indivisible integration even in the most mundane of activities and ubiquitous and practical of objects. I don't make a living from the art directly but I teach and the reason I am able to teach is because of my artistic practice. I spend my time helping students learn how to interrogate the world around them and then I step out of the classroom and work on my own interrogations. But it is always difficult to find one's way around the financial question of being an artist and these are especially tough times. Even if we are able to take the question of art out of the equation, just to make a living, period, can be a tough proposition for so many people. In some ways I resist the idea of the professional artist...but everything is monetized in our world
5. What influences or motivates you in the world?
Problems, they abound all around us, they provoke questions, and one can't help but feel perplexed because the solutions feel so accessible, yet some aspect of human nature prevents our collectively accessing the obvious. Its tragic, at the most fundamental level we give the state enormous power over our life so that we can feel protected and maybe our collective paralysis is rooted in this fear of the unknown.
6. What artists or movements are you following right now?
Not following any artistic movements at the moment but I am interested in questions of citizenship, or the lack thereof, what constitutes a state, what are state functions, the fragility of the state, what are its limits, its margins and those who operate at those margins.
7. What has been the best screening experience of your work?
For me every screening opportunity is a blessing and I have been finding audiences to be generous and willing to meet the work half way, even those who are really challenged by it. Someone said to me at a recent screening, "I haven't seen anything like that before, I am not sure I liked it, but I know I didn't not like it." This person was open to the possibility of something unexpected and I loved that the work could provide such an opportunity.
8. What are you working on right now?
Its hard to say to much about that as I know that the place where my work starts is not the place where it will end up. It feels a little strange to describe the departure, as I am not sure what possible relationship it will have with the destination other than being a beginning. But beginnings can be beautiful and memorable events.
9. How do you start a piece? How do you know when a piece is finished?
It starts by gathering ingredients, then wandering through them, becoming lost, back tracking, jumping tracks, building bridges, layering, pairing down, and just lots of research, theoretical, philosophical and historical. Its completed when the idea of returning home has become an impossibility. At the point when you no longer understand how you arrived at your destination.
10. What are you currently reading? Watching?
"A Voice and Nothing More", I love the objects that Mladen Dolar puts on the table and the way in which he is able to draw out relationships between them, in pursuit of a highly ephemeral idea, one that he calls the object voice...and because Dolar references Agmben I have started to read him.
Read more of the VDB Asks... series