VDB Asks... Paweł Wojtasik
Paweł Wojtasik (b. Łódź, Poland) creates poetic reflections on cultures and ecosystems in the form of short films and large-scale installations. His investigations into the overlooked corners of the environment have led him to pig farms, sewage treatment plants, wrecking yards and autopsy rooms.
Wojtasik lived in Tunisia before immigrating to the U.S. in 1972. He received an MFA from Yale University in 1996. From 1998 until 2000 he was a resident at Dai Bosatsu Zendo Buddhist monastery. His work has been shown at festivals such as Berlinale, the New York Film Festival, and the Hong Kong International Film Festival, where his film Pigs won the grand Prize in the short film category in 2011. Wojtasik was a featured filmmaker in the 2009 Flaherty Film Seminar. His installation work includes the immersive 360° Below Sea Level, about post-Katrina New Orleans, exhibited at MASS MoCA and included in Prospect.2 Biennial, as well as Single Stream, shown at the Museum of the Moving Image in New York. The single-channel version of Single Stream was presented at the 2014 Whitney Biennial and at the Ann Arbor Film Festival. Wojtasik's first feature film End of Life (a collaboration with John Bruce) was shown at the 2018 New York Film Festival. The film was selected as a candidate for the 2018 European Academy Awards. Pawel's second feature documentary, The End and the Means, portrays workers of the Indian city of Varanasi. It had its North American premiere at RIDM in 2018. Both of Wojtasik's feature-length works are distributed by Grasshopper Films.
VDB is proud to release a compilation of Wojtasik's short works, Paweł Wojtasik Videoworks: Volume 1.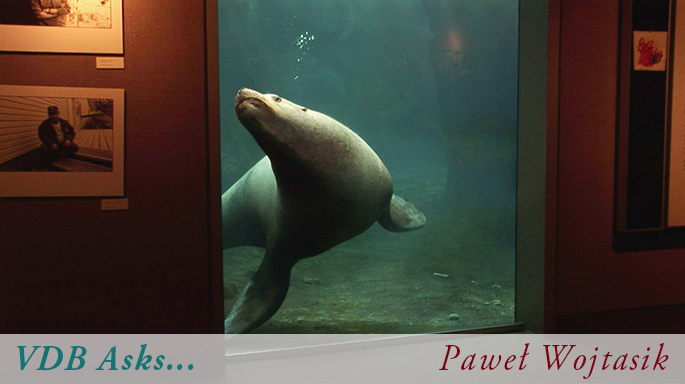 1. Can you tell us something about your background?
I grew up in communist Poland, and lived in Tunisia for three years before immigrating to the U.S. in 1972. To survive, I have worked as a pushcart vendor, security guard, hospital orderly, carpenter, library clerk, etc. In 1998 I entered a Zen monastery where I remained for a year-and-a-half.
2. What inspired you to become an artist? To use video?
Alienation. I found art let me communicate with others.
3. Did you have formal art training/schooling?
Yes, I studied painting at Yale and Pratt.
4. How do you balance life and art? Are you able to make a living through creating art?
I have a large space in Brooklyn which I renovated myself (it took five years). I support myself renting rooms to friends, and supplement that income with teaching/exhibition fees.
5. What influences or motivates you in the world?
There is suffering all around us and within us. We cannot remain passive in the face of human suffering, animal and plant suffering, the world suffering, destruction even.
6. What artists or movements are you following right now?
I like the work of the Sensory Ethnography Lab at Harvard, films such as Manakamana (Stephanie Spray, Pacho Velez), Leviathan (Verena Paravel, Lucien Castaing-Taylor), Demolition (J.P. Sniadecki). Valeska Grisebach in Germany, especially her film Western — it's revelatory. Recently I had the pleasure of acting in Adam Khalil and Bayley Sweitzer's brilliant film Empty Metal. All these works encapsulate our global predicament while challenging established notions of genre.
7. What was the last exhibition you saw?
The Hilma af Klint exhibition at the Guggenheim Museum in New York. It's a stunning example of spiritual passion manifesting as art.
8. What has been the best screening experience of your work?
Robert Flaherty Film Seminar in 2009. Because several of my films were shown over the course of a week, along with other filmmakers' work, and were all followed by intense discussion, it became clear that there is some sort of unity to what I do.
9. What are you working on right now?
A project about Mars and the Rio Tinto Region in Spain. It is a documentary as well as a VR piece.
10. How do you start a piece? How do you know when a piece is finished?
I look for things, places or events that disturb me, yet that seem to go unnoticed. I get immersed in the subject. For example, I filmed at a sewage treatment plant, and you could say, over the course of working there, I became "one with the shit". When editing the piece, I kept returning to the beginning, and going forward along the timeline, until there was nothing more to change. Then I knew the piece was done.
11. What are you currently reading? Watching?
I keep returning to Seeing Is Forgetting the Name of the Thing One Sees by Lawrence Weschler, a must-read for every artist. I just finished Lawrence Shainberg's Ambivalent Zen, and I'm reading The Corporeal Image by ethnographic filmmaker David MacDouggal. Looking forward to Pooja Rangan's Immediations: The Humanitarian Impulse in Documentary, next on my list.
Watching: recently restored classic Polish films of the 1960's, such as Knife in the Water, The Last Day of Summer, etc.
12. Room for final thoughts:
Awareness: what is taking place at this very moment is astoundingly rich, beyond description, life-affirming — even in the midst of calamity. Also, being aware of one's own bias and prejudices.
Updated March 2019
Read more of the VDB Asks... series