VDB Asks... Sky Hopinka
Author:
George William Price
Sky Hopinka is a Ho-Chunk Nation national and descendent of the Pechanga Band of Luiseño Indians. He was born and raised in Ferndale, Washington and spent a number of years in Palm Springs and Riverside, California, and Portland, Oregon and is currently based out of Milwaukee, Wisconsin. In Portland he studied and taught chinuk wawa, a language indigenous to the Lower Columbia River Basin. His work centers around personal positions of homeland and landscape, designs of language and the facets of culture contained within. He received his BA from Portland State University in Liberal Arts and his MFA in Film, Video, Animation, and New Genres from the University of Wisconsin-Milwaukee.
His work has played at various festivals including ImagineNATIVE Media + Arts Festival, Images Festival, Courtisane Festival, Ann Arbor Film Festival, American Indian Film Festival, Sundance Film Festival, Antimatter Film Festival, Chicago Underground Film Festival, FLEXfest, and the LA Film Festival. We are delighted to announce that Visions of an Island will be exhibited at the 2017 Whitney Biennial.
Hopinka was awarded jury prizes at the Milwaukee Underground Film Festival, the More with Less Award at the 2016 Images Festival, the Tom Berman Award for Most Promising Filmmaker at the 54th Ann Arbor Film Festival, and 3rd Prize at the 2015 Media City Film Festival.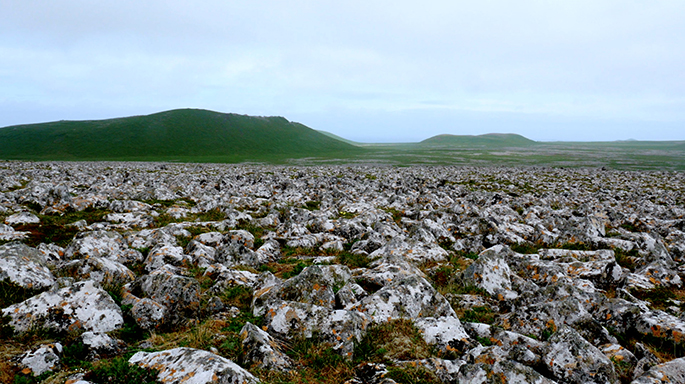 1. Can you tell us something about your background?
I was born in northern Washington state, in a small town called Ferndale. I'm a member of the Ho-Chunk Nation of Wisconsin on my father's side, and a descendent of the Pechanga Band of Luiseño Mission Indians on my mother's, so growing up in Ferndale – next to the Lummi Reservation – was a very multi-tribal experience. I'd lived in southern California for about ten years, and in Portland, Oregon for another seven years and now I live in Milwaukee, Wisconsin.
2. What inspired you to become an artist? To use video?
My grandmother was an artist - she painted, played music, and did beadwork. She made all of my family's powwow outfits and my earliest memories of her are moments when I'd sit and watch her beading late into the night and we'd visit and she'd tell me stories and we'd watch old movies. She taught me to dance, made space for music (my first introduction to the piano was when she taught me how to play "Heart and Soul" alongside her on a Casio keyboard when I was 8), shared her science fiction novels with me, and was always finding moments to be creative.
For the longest time I thought I'd be a musician, but I was never really that good at it. In college I thought that I would be a writer, but I was never really good at that either. It wasn't until about 2010 when I picked up a Sony Cybershot point and shoot camera with video function did I feel like I found that thing that I just got. Like I found the medium that intersected all of the forms that I'd dabbled in and gave me an outlet for sound, culture, and story.
3. Did you have formal art training/schooling?
Yes and no – I taught myself how to use a camera and to edit. My undergraduate degree was initially focused in English so I learned a lot about ideas and forms of storytelling from that experience. I received my MFA from the University of Wisconsin Milwaukee, and that was the first time I'd been in any sort of formal art environment and that experience was invaluable in showing the language and made visible the lines of thought that let me dive into realizing the intersection of my technical understandings with my conceptual desires.
4. How do you balance life and art? Are you able to make a living through creating art?
By not separating the two – by recognizing the privilege I have in being able to make that statement – by supporting others the way I'd like to be supported – by teaching and working with communities and organizations that I believe in and feel grateful to contribute in whatever way I am able to – by knowing what I can't do and being okay with that.
5. What influences or motivates you in the world?
My family, my friends, my communities, my colleagues, my identity as a Ho-Chunk person and the responsibility that goes along with that, those that came before me and those that are doing the work right now – as difficult and as beautiful as it all is – my dear friend Crystal Matin, who doesn't let me get away with much, encourages me to no end, and will always call me on my bullshit. And good conversation.
6. What artists or movements are you following right now?
Too many to name, but Peter Rose, Basma Alsharif, and Apichatpong Weerasethakul are always at the top of the list of artists that I'm thinking about that mystify and inspire. I feel fortunate to be in Milwaukee where the art community is so vibrant and active. The filmmakers Ben Balcom and Jesse Mclean run Microlights Cinema in town and the number of visiting makers that come through sharing their work is inspiring – even when I don't have the words to express that feeling. And always movements around Indigenous rights, and Indigenous language revitalization, where dedication in the face of all kinds of oppression is met with humble and impassioned perseverance.
7. What was the last exhibition you saw?
Agnes Martin at the Guggenheim. It was my first time at that museum and was such a wonderful way to meet the work, and was one of those moments where I didn't have the words.
8. What has been the best screening experience of your work?
In the summer of 2011 I was interning for a language revitalization organization called Where Are Your Keys? (WAYK) and we were working with the Numu language in Oregon. There were four of us in WAYK and we were training seven high schoolers, who were tribal members, how to develop language curriculum for Numu. I was just getting into learning how to make movies and over the course of the summer I was shooting video as part of the internship – for curriculum development and to try my hand at documentary filmmaking. It was an intense, emotional, beautiful experience and by the end of the summer I had a video to show. So we all gathered in one of the meeting rooms – us from WAYK, the high school students, the elder language speakers we were working with, the tribal language staff and some of the student's family members and we showed the video we made, A Fascinating Story. It was terrifying. This was the first time I'd shown my work to any sort of audience, but they enjoyed it and we had a big meal afterwards where we all visited and laughed. Videos, much like languages, don't exist in a vacuum.
9. What are you working on right now?
A couple of projects, the first being a short video drawing from the essay Anti-Object by the architect Kengo Kuma. It's looking at two structures in the Portland Metropolitan Area named after and in use by the Chinookan people Indigenous to the region, along with recordings of Henry Zenk documenting and learning from the last first-language speaker of Chinuk Wawa, Wilson Bobb. The other project is focused on the Standing Rock resistance against the Dakota Access Pipeline, and the camp and community that has formed to assert Indigenous rights and presence.
10. How do you start a piece? How do you know when a work is complete?
Mostly by shooting things that I find interesting, gathering and collecting images with some sort of idea germinating about how I'd like them to shape into. Also coming across bits of audio – recordings, music, or otherwise – and finding ways to use those things that stay in the back of your mind while you're working through everything else. I work through a lot of different edits, and along the way I show my work to a few people to get feedback and critiques, which I can't imagine doing without. I usually know a piece is done when I'm lying in bed staring at the ceiling and thinking of things other than edits, sounds, and sequences that I'm not satisfied with, and also when I watch a cut through and don't know what else to do.
11. What are you currently reading? Watching?
Adulthood Rites by Octavia Butler, The Importance of Being Iceland by Eileen Myles, and Sea and Fog by Etel Adnan. I just got done watching Luke Cage and now I'm looking for what's next.