Deborah Stratman is a Chicago-based artist and filmmaker interested in landscapes and systems. Her films, rather than telling stories, pose a series of problems – and through their at times ambiguous nature, allow for a complicated reading of the questions being asked. Much of her work points to the relationships between physical environments and the very human struggles for power and control that are played out on the land. Stratman's films have been featured at numerous international festivals including Sundance, the Viennale, Full Frame, Ann Arbor, Oberhausen and Rotterdam.
VDB is pleased to release four new works by Stratman during Winter 2014, available for rental and screening: The Name is not the Thing named (2012), Musical Insects (2013), Immortal, Suspended (2013) and Hacked Circuit (2014). In conjunction with this major release, VDB sat down with the Alpert Award-Winning artist to discuss her influences.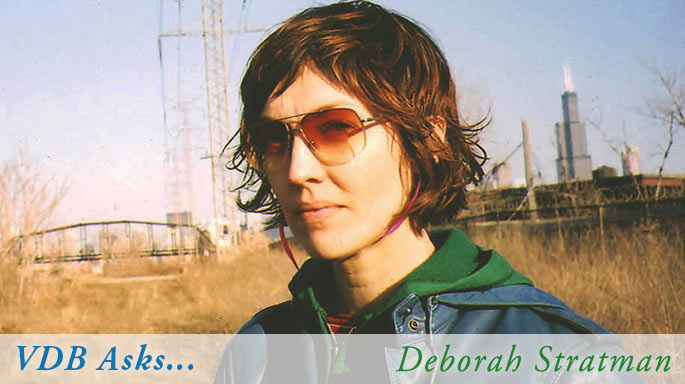 1. Can you tell us something about your background?
I was born in Washington DC (Center of Gov in the Summer of Love!). But I grew up in the Midwest — Chicago's western suburbs. My dad was an electrical engineer and patent attorney. He's retired now. My mom is a social worker and activist. They're both always involved with volunteer projects and social justice causes. I'm the oldest of three, with two smarty-pants brothers who live on either coast with their families. They've each got two daughters, which makes me a Quadraunt. I was big into science as a kid. In high school (early 1980s) I attended the Saturday morning physics program at Fermilab in Batavia. I'm not sure it still exists. It was 10 weekly 2-hour lectures about particle physics, cosmology, quantum mechanics, relativity and other cool stuff. I probably attended lectures by Leon Lederman who started the program, which blows my mind when I think of it now. Of course I had no idea who he was then. I would carpool there with this super tall punk rock kid from my school who lived in the apartments down the road from us and who I thought was really cute. I forget his name now. I remember a disarming number of other guys in the program sported Dr. Who scarves and trench coats, and that there were very few girls.
2. What inspired you to become an artist? To use video?
It seemed like the best way to ask questions of the world.
I like that being an artist — particularly a filmmaker with documentary tendencies — allows me to be a temporary specialist in pretty much anything I'm interested in.
I didn't use video until grad school. It was all editing on 3/4" tape back then, which was a pain in the ass. As a young artist, it was film that appealed to me. The original non-linear! I connected with it primarily as an art form that involved manipulating time. I loved learning the mechanics of the camera, the optics of the lenses and exposure, the chemistry of the lab, working with sound… I guess the conditions of filmmaking rhymed with my interest in physics. And I liked that the form involved working with so many different skill sets.
I've always enjoyed using both video and film. They make me think in different ways. It's like switching languages. So it makes me sad that film is becoming obsolete. I've happily worked with video and digital for years now, but I like having the option to choose celluloid for certain projects. It's frustrating to have an industry dictate or censor your practice.
3. Did you have formal art training/schooling?
Not in high school. But yes, in college.
4. How do you balance life and art? Are you able to make a living through creating art?
Some years are good grant years. But mostly, I make a living by teaching. Which I enjoy, so it works out. I always feel short of time though. There are unfailingly more projects than time to do them in. So the balancing of life and art, I've yet to figure that out.
5. What influences or motivates you in the world?
Great public speeches. Rev. Graylan Hagler on the School of the Americas. Gen. Smedley Butler at the Bonus Army march. Shirley Chisholm. Angela Davis. Cesar Chavez. Queen Mother Moore. Basically just people who speak up.
And also…
The high desert.
The magnetosphere.
Tunneling.
Injustice.
Curiosity.
Ego.
Music.
Travel.
Living creatures of pretty much every stripe, especially birds and insects.
My family.
6. What artists or movements are you following right now?
I'm a Marcel Broodthaers superfan - if dead people count. He was formidable and hilarious. I admire Jean-Marie Straub and Danielle Huillet (she's also passed). Their films are so dense and opaque I can barely understand them at times, but so elegant, distilled and convicted – I am always moved by them. They make radical and startling cinematic moves that linger with me long after a screening. Nancy Holt. Robert Smithson. Harun Farocki. Dead too… jeez, let me think of some living people… The Otolith group are making cool projects. Though I think they might be better essayists than filmmakers. Luke Fowler's Depositions is very compelling. And I like Duncan Campbell – Bernadette is freaking brilliant. Stephanie Barber. Karen Yasinsky. Agnes Varda. Kevin Everson. Lucy Skaer. Ben Rivers. The hits just keep on comin' with these folks!
7. What was the last exhibition you saw?
The Cosima von Bonin show at mumok in Vienna last week.
8. What has been the best screening experience of your work?
Probably screening work at the Flaherty Seminar a couple of summers ago. I also enjoyed my 'Failed Films' screening at Anthology Film Archives that Andy Lampert organized.
9. What are you working on right now?
Staying in touch with people and not taking them for granted, losing the self-consciousness that comes with knowledge or skill, being a more interesting cook.
As for art… I'd like to compile a book project around the research that went into the Swallows, which was an exhibition I did at Hallwalls earlier this summer about sinkholes. And I'm nearing the end of editing a longer film I've been working on for an absurdly long time now about technology and faith called The Illinois Parables.
10. How do you start a piece? How do you know when a piece is finished?
It's always different. Sometimes it starts with a concept or a phenomenon. Sometimes with a place — an interest in geography, or geology, or the cultural history of a site. Sometimes a piece begins with a person or group of people. Sometimes I start with pre-existing material, generated by another artist. Or with a story I can't shake. Some projects start by researching historical trajectories or specific events, other times with infrastructure, architecture or some other control system. Some projects are spin-offs; ideas that wouldn't fit into a previous project. Or reactionary, made out of a desire to work in a different métier than a previous project. And some are started by an invitation or a provocation.
And I guess there's just as many ways of finishing.
11. What are you currently reading? Watching?
Currently on the teetering bed-side stack: Joan Didion's Slouching Towards Bethlehem, Marilynne Robinson's The Death of Adam, Hannah Arendt's Responsibility and Judgement, Ralph Ellison's Invisible Man, Nikolai Leskov's The Enchanted Wanderer and Yvonne Rainer's Feelings are Facts. All started, at various stages of mid-way-through.
Tonight I'm watching Ten Canoes by Rolf de Heer. I saw his new film Charlie's Country in Montreal last month and thought it was phenomenal, so wanted to check out his earlier work.
Read more of the VDB Asks... series