VDB Asks... Sara Magenheimer
Sara Magenheimer is an artist based in New York. Recent exhibitions include Interstate Projects, 247365 Gallery, Cleopatra's, Brooklyn, and Chapter (New York), Document Gallery (Chicago), and Futura (Prague, Czech Republic). Recent screenings include the Ann Arbor Film Festival (Michigan); Images Festival (Toronto), the New York Film Festival, The Kitchen, Brooklyn Academy of Music (New York), Portland Museum of Modern Art (Oregon), and the Living Art Museum (Reykjavik, Iceland). Her collaborative project Bloopers received commissions from Triple Canopy and EMPAC, at Rensselaer Polytechnic Institute. She was the recipient of a 2014 Rema Hort Mann Foundation Grant, an Artadia Grant, and winner of the Prix De Varti at the 2015 Ann Arbor Film Festival.
This year VDB is thrilled to welcome Sara Magenheimer into the collection, and to place into distribution six of the artists works: One Vast Focus (2011), Nothing Comes from Talking (But Sound) (2012), Seven Signs that Mean Silence (2013), Which Arbitrary Thing Are You (2014), The Rhythm of Plain White (2014), Slow Zoom Long Pause (2015). To celebrate our collaboration with the artist, VDB sat down to ask her a few questions about her practice.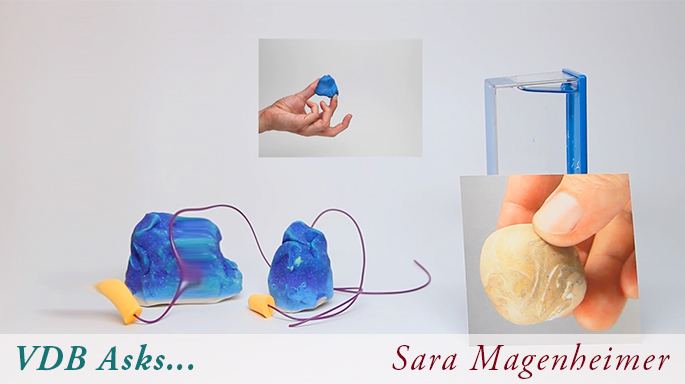 1. Can you tell us something about your background?
My brothers are adopted from Korea and I have adopted cousins from Vietnam, Bulgaria, and Guatemala. My grandmother, Bridget, was Italian and taught Italian, Spanish and French. My other grandmother, Edna, was Polish and made polish food. With good intentions, my family did a lot of cultural mis-appropriation.
2. What inspired you to become an artist? To use video?
Going to experimental dance performances with my mom, a dancer and musician, was a big influence. Video was a natural outgrowth of growing up thinking about the ways sounds, movement, and images could combine.
3. How do you balance life and art? Are you able to make a living through creating art?
I really don't know. I think the nature of things is to be off balance, so I guess I would say I balance by allowing for imbalance. I remind myself that part of being an artist is having a set of values that may differ from those prevailing in our culture and that my sense of balance or fulfillment comes from a different place.
4. What influences or motivates you in the world?
Right now I'm interested in how the female voice is being used in service technology (Siri, Alexa, etc.)
5. What has been the best screening experience of your work?
I've been lucky so far, but I live in perpetual fear that there will be a technical malfunction and the image will glitch or the sound will cut out. Do painters have a comparable fear I wonder? Maybe things can get damaged in shipping and that's it; no more painting. There was just that one. It's nice that video work can always be reproduced, like a virus.
6. What are you working on right now?
Last spring I started a video project called False Alphabets and I'm going to be working on that for a while. It's about a character called DJ Angel Food who is a radio DJ and musician, played by Eleanor Friedberger. Besides that, I'm writing a script for a video about light narrated by a Tapir. I'm also working on a series of wire and ceramic sculptures and collage/paintings. I will be having a show at COR&P in late March.
7. How do you start a piece?
I begin by writing. I write every morning and evening. I write scripts for my videos, but also notes and sketches of ideas throughout the day. I also take a lot of pictures.
8. What are you currently reading? Watching?
I'm researching about alternative approaches to documentary, which has lead me to the essay Susan Howe wrote about Chris Marker Sorting Facts, or Nineteen Ways of Looking at Marker. It's so good that I can only read about a page at a time and then I have to lie on the ground like a snake digesting a rat.
9. Room for final thoughts:
I try to pay close attention to coincidences.
Read more of the VDB Asks... series