VDB Asks... Louis Hock
In conjunction with the release of the four-part documentary series The American Tapes: Tales of Immigration, VDB is proud to share this online conversation with fillmaker Louis Hock.
Hock's American Tapes series revisits the life and and times of four families whose stories of "undocumented" immigration he depicted in the 1986 series The Mexican Tapes: A Chronicle of Life Outside the Law. The new work of four one-hour episodes affords an intimate and long-term reflection on the ways in which immigration and citizenship have shaped their lives in the following three decades.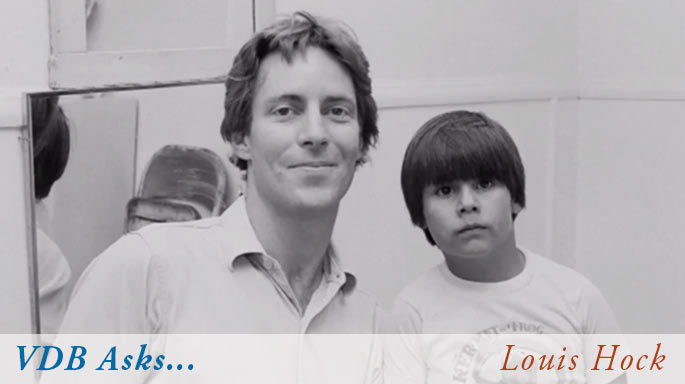 1. Can you tell us something about your background?
Beginning with Nogales, Arizona, then Tucson, and now Encinitas (near San Diego), I have spent most of my life within 50 miles of the U.S.'s southern border. Raised by two school teachers, I was encouraged to do what ever I wanted, well. Only later did I realize my dirt road driving to sunsets, Tohono O'dham family camping at the end of my street, and horses to school on rodeo day were a long way from New York City. I was a hick.
2. What inspired you to become an artist?
At first I thought I was a poet. In college, after a long conversation with Allen Ginsberg, I realized poets thought in words. I thought in images, and then translated the images into words. Curiously and furiously I then jumped into documentary filmmaking. Only many years later it was explained to me that I had spent my preschool years watching a library of educational films in my grandmother's grade school basement, screened for me by the custodian, serving as early childcare entertainment.
3. Did you have formal art training/schooling?
I was the first graduate film student at the School of the Art Institute of Chicago. The most influential artists for me there, and almost antipodal, were Stan Brakhage and Nam June Paik.
4. How do you balance life and art? Are you able to make a living through creating art?
Essentially a compulsive activity, my projects are a creative distention of some aspect of my lived experience. To earn money I teach at a university that has given me some financial support and a studio.
5. What influences or motivates you in the world?
Usually it is something beautiful or something that makes me angry. My best work combines the two.
6. What artists or movements are you following right now?
Looking at a film like The Act of Killing, I am wondering where documentary representation is going. Not only does the work reenact the past in the present in the way that Morris's film The Thin Blue Line does, the director of The Act of Killing also serves as an vital agent in unfolding the characters lives in front of the camera, creating a future.
7. What was the last exhibition you saw?
A series of photographs of a wealthy Mexican community by Yvonne Venegas, San Pedro Garza Garcia, and the Citizen Culture show curated by Lucia Sanroman, both in Los Angeles.
8. What has been the best screening experience of your work?
I don't know if it was the best, but certainly the most memorable, in the Santa Cruz County Courthouse. I made a film about the last battle between the U.S. and Mexico in 1918 that took place at the Nogales frontier. We screened the film for the local audience, many of whom knew the half dozen 85+ year-old people who starred in the film and who had passed away prior to its completion, including my grandmother. The projector was put at the rear of the courtroom and screen hung over the judge's bench with the speakers in the witness box and recorder's seat.
9. What are you working on right now?
After completing a large video series that took six years, I am now playing around with some more modest sculptural installations and trying to develop a new public art project with collaborators David Avalos and Elizabeth Sisco.
10. How do you start a piece? How do you know when a piece is finished?
I usually have a simple, single idea or object that I am charmed with that evolves through rumination and production into a more rich, complicated artwork, well beyond my initial thinking. I always avoid beginning with complicated notions because it is hard to imagine ever completing them. It is easy for me to see a piece is finished at a particular moment in time. The problem for me is revisiting them, say for a new exhibition or screening, and not re-finishing them to match my thinking at that new moment.
11. What are you currently reading? Watching?
I have been looking at films in which a long time span are the essence to their content, such as Winfried Junge's Die Kinder von Golzow, Michael Apted's 7 Up, and Linklater's Boyhood, considering them as a genre. In terms of my reading, research on the history of the railroad in the western U.S., and Tanya French crime novels.
Read more of the VDB Asks... series