Broad Daylight and Other Times: Selected Works of Kevin Jerome Everson
03:02:04 | 3 DVDs
Collection: Box Sets
Tags: African-American, Documentary, Experimental Film, Family, Found Footage, Home DVD, Labor, Mixed media, Photography, Race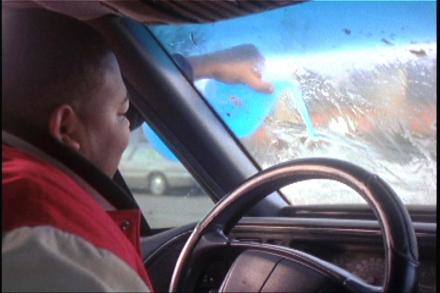 Kevin Jerome Everson's prolific body of work is grounded in formalism and combines scripted and documentary elements. The subject matter is the gestures or tasks caused by certain conditions in the lives of African-Americans and people of African descent, often working class. The conditions are usually physical, social and economic circumstances, or weather. His films suggest the relentlessness of everyday life — along with its beauty — and present oblique metaphors for art making. This 3-DVD box set includes the feature Cinnamon, 23 short-form works, and a booklet with the following essays:
Undefeated: Notes on KJE's films — Emmanuel Burdeau
A Work Aesthetic: The Films of Kevin Jerome Everson — Monica McTighe
Who Killed Evidence? — Katrin Mundt
'To Do Better': Notes on the Work of Kevin Jerome Everson — Michael B. Gillespie
Produced by Video Data Bank in association with Picture Palace Pictures and Trich Arts.
This box set is dedicated to DeCarrio Antwan Couley, 1984-2010.
Included Titles
Cinnamon presents a glimpse into the world of African American drag racing. It follows the consistent routine of a bank teller and a mechanic as they prepare for the sport. Once the routine is disrupted, the result of the race comes into doubt. The...

Collection: Single Titles

Lead is a tale of an early 20th Century Robin Hood, based on a story by James Williams, involving jumping trains and throwing coal off for needy Southerners. Cast: Chris Barkley, Hassen Mahamud, Kenny West, James Williams. Cinematography: Jonathan...

Collection: Single Titles

Tags: african-american, experimental film, labor

Company Line is a film about one of the first predominately Black neighborhoods in Mansfield, Ohio. The title, Company Line, refers to the name historically used by residents to describe their neighborhood, located on the north side of town close to...

Collection: Single Titles

Tags: african-american, city, documentary, experimental film, family, labor, migration, mixed media, race

Sportello Quattro, filmed during a residency at the American Academy in Rome, is about immigration, work and community among people of color in contemporary Rome, Italy. Cast: Joseph Bayorha. This title is only available on Broad Daylight and Other...

Collection: Single Titles

Tags: african-american, european film/video, labor, race

72 follows a teenage taxicab driver in Columbus, Mississippi multitasking to keep his job. Cast: DeCarrio Couley. This title is only available on Broad Daylight and Other Times: Selected Works of Kevin Jerome Everson.

Collection: Single Titles

Tags: african-american, labor

A Week in the Hole chronicles a factory employee's adjusting to the materials, time, space and personnel during his first day of work. A Creative Capital 2001 Grantee. Cast: Maurice Printis. This title is only available on Broad Daylight and Other...

Collection: Single Titles

Tags: african-american, labor

753 McPherson Street employs both original and found footage to represent a very old, passionate, and sometimes lucrative business — a funeral home, in Mansfield, Ohio. The title refers to its street location situated in Everson's childhood environs...

Collection: Single Titles

Tags: african-american, death and dying, found footage, labor

Twenty Minutes is about the design and usage of the pulley from the era of Leonardo Da Vinci to the early 21st Century. Cast: Clifton Bazemore, Derek Bazemore. Animation: Aaron Biscombe. This title is only available on Broad Daylight and Other Times...

Collection: Single Titles

Tags: labor

Pictures from Dorothy is a current day consideration of the symbolism of Frank Baum's Wizard of Oz. Cast: Matilda Washington. Music: David Reid. This title is only available on Broad Daylight and Other Times: Selected Works of Kevin Jerome Everson.

Collection: Single Titles

Tags: african-american, experimental film, literature, youth/childhood

Two–Week Vacation depicts a segment of society whose preoccupation with work interrupts even their vacation. Cast: Matilda Washington. Music: David Reid. This title is only availalbe on Broad Daylight and Other Times: Selected Works of Kevin Jerome...

Collection: Single Titles

Tags: african-american, labor

Old Cat will eventually and pleasantly get to a destination. Shot in the summer of 2009, in a single take, on a lake in Virginia. Cast: Chad Bowles, Marcus Bowles. This title is only available on Broad Daylight and Other Times: Selected Works of...

Collection: Single Titles

Fifeville is a film about a neighborhood in Charlottesville, Virginia. It focuses on the details, gestures, and material life of the citizens of Fifeville as they communicate their understandings of the neighborhood's changing landscape. Although...

Collection: Single Titles

Tags: african-american, documentary, environment, experimental film, landscape, race

140 Over 90 is about the crisis of hypertension in the Black community. Cast: DeCarrio Couley, James Williams. This title is only available on Broad Daylight and Other Times: Selected Works of Kevin Jerome Everson.

Collection: Single Titles

Tags: african-american, health

The Picnic is a film made with found footage about a couple enjoying a beautiful day, food, sex, a blanket, long walks and a firearm. This title is only available on Broad Daylight and Other Times: Selected Works of Kevin Jerome Everson.

Collection: Single Titles

Tags: african-american, found footage, sexuality

Ike is about a person showing their special gift — if pushed. The truth, fiction and lore of a brick thrower with deadly accurate aim. Cast: Deondre "Champ" Jones, Derron Everson, Anthony Jerrell Jones. This title is only available on Broad Daylight...

Collection: Single Titles

Tags: african-american, body

Playing Dead is a film about lying still to stay alive. A news reporter queries the survivor of a brutal attack. This title is only available on Broad Daylight and Other Times: Selected Works of Kevin Jerome Everson.

Collection: Single Titles

Ring attempts to exhibit the "sweet science" of boxing in an elegant way. This title is only available on Broad Daylight and Other Times: Selected Works of Kevin Jerome Everson.

Collection: Single Titles

Tags: african-american, body, found footage

Home is about disappointment in northern Ohio. The scoreboard depicted is on the grounds of Mansfield Senior High. The sentiment conjures the close call. This title is only available on Broad Daylight and Other Times: Selected Works of Kevin Jerome...

Collection: Single Titles

Second and Lee is a cautionary tale about when not to run. It uses archival reportage and voiceover recollection to trace through repetitive corridors of presumption, justice and judgment.

Collection: Single Titles

Tags: african-american, crime or violence, found footage, race

Undefeated is about mobility and immobility, or just trying to stay warm. Featuring DeCarrio Couley shadowboxing to the rhythm of a hand–cranked Bolex. Cast: DeCarrio Couley, James Everson. This title is only available on Broad Daylight and Other...

Collection: Single Titles

Something Else is a film about found footage as subject matter and Miss Black Roanoke, Virginia 1971 expressing her thoughts about the upcoming Miss Black Virginia 1971 Pageant. Cast: Rene Marie. This title is only available on Broad Daylight and...

Collection: Single Titles

Tags: african-american, found footage, gender, race

Blind Huber is a film interpretation of a poem by the American writer Nick Flynn loosely based on the life of Francois Huber, the blind 18th Century beekeeper, who sat before a series of hives for fifty years unlocking an unknown world. Written by...

Collection: Single Titles

Tags: experimental film, history, poetry

Vanessa is based on the untimely death of Vanessa Jordan. A work about loss and Michelangelo. This title is only available on Broad Daylight and Other Times: Selected Works of Kevin Jerome Everson.

Collection: Single Titles

Tags: african-american, death and dying, history

Aquarius is a film about horoscopes and hope, and coping with everyday life. This title is only available on Broad Daylight and Other Times: Selected Works of Kevin Jerome Everson.

Collection: Single Titles
Exhibitions + Festivals
More Than That: Films by Kevin Jerome Everson, Whitney Museum of American Art, April - September 2011
Related Content