VDB TV: Decades
5 DVDs
Collection: Curated Compilations, Box Sets
Tags: African-American, Artist Portraits, Autobiography, Experimental Film, Future, Media Analysis, Memory, Middle East, Politics, Portrait, Self-Reflexive Video, Television, War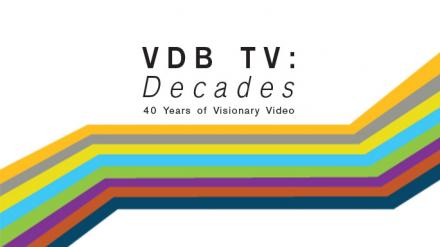 VDB TV: Decades is a unique series that casts a distinctive eye over the development of video as an art form from the early 1970s to the present, produced to mark the 40th anniversary of the Video Data Bank. Each program in this five-disc box set was curated by an inspiring artist, scholar, or media arts specialist focusing on a specific decade. Curators surveyed the VDB collection to create personal, distinctive, and relevant programs, accompanied by original essays and texts, available as ROM content on each program disc. VDB TV: Decades is the perfect accompaniment to VDB's iconic anthology Surveying the First Decade: Video Art and Alternative Media in the U.S. 1968-80, providing another essential tool for understanding the development of video and media art over the past five decades.
Programs Include:
1970s: The Electric Mirror — curated by Robyn Farrell
1980s: Problematizing Pleasure / Punk Theory — curated by Steve Reinke
1990s: The Whole World is (Still) Watching — curated by Solveig Nelson
2000s: Sandwiched Between Trauma and Apocalypse — curated by Aily Nash
2010s: Future-Past-Present — curated by Dr. Omar Kholeif
Artists Include:
Basma Alsharif, Souheil Bachar, John Baldessari, Rosa Barba, Liza Beár, Lynda Benglis, Sadie Benning, Dara Birnbaum, Paul Chan, Cecelia Condit, Ximena Cuevas, Simone Forti, Leah Gilliam, Gran Fury, Nancy Holt, Doug Ischar, Tom Kalin, Paul Kos, Marlene Kos, Barbara Aronofsky Latham, Jesse McLean, Susan Mogul, Tony Oursler, Nicolas Provost, Walid Raad, Steve Reinke, Tom Rubnitz, Suzie Silver, Keith Sonnier, Martine Syms, William Wegman, Matt Wolf, Akram Zaatari, Julie Zando.
Included Titles
VDB TV: Decades1970s: The Electric Mirror

Collection: Curated Compilations, Compilations

Tags: art history, blu-ray, body, conceptual art, feminism, mental landscape, performance, technology, television

VDB TV: Decades1980s: Problematizing Pleasure / Punk Theory An original program for VDB TV: Decades curated by Steve Reinke.

Collection: Curated Compilations

Tags: culture jamming, death and dying, feminism, language, love, philosophy, sexuality

VDB TV: Decades1990s: The Whole World is (Still) Watching

Collection: Curated Compilations, Compilations

Tags: activism, african-american, aids/hiv, camp, culture jamming, death and dying, feminism, lgbtq, love, media analysis, performance, politics, psa, sexuality, social justice, video history

VDB TV: Decades, The 2000s An original program for VDB TV: Decades curated by Aily Nash.

Collection: Curated Compilations, Compilations

Tags: media analysis, memory, politics, state, the, surveillance, technology, television, time, war

VDB TV: Decades2010s: Future-Past-Present An original program for VDB TV: Decades curated by Omar Kholeif.

Collection: Curated Compilations

Tags: african-american, artist portraits, autobiography, experimental film, future, media analysis, memory, middle east, politics, portrait, self-reflexive video, television, war