Radical Closure
05:36:57 | 5 DVDs
Collection: Curated Compilations, Box Sets
Tags: Experimental Film, Landscape, Middle East, Politics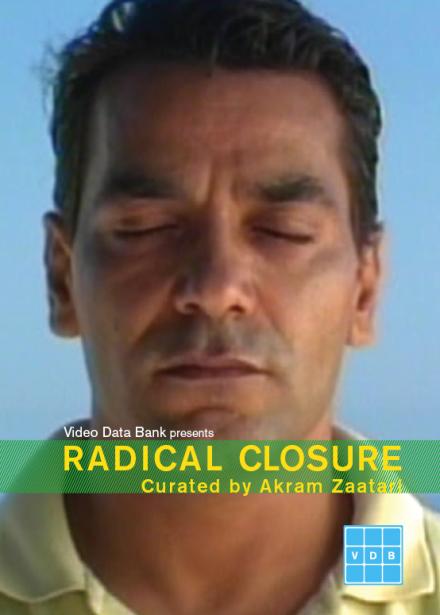 Curated by Lebanese video artist Akram Zaatari, and originally presented by the Internationale Kurzfilmtage Oberhausen, Radical Closure features works produced in response to situations of physical or ideological closure resulting from war and territorial conflicts. The program looks at what is known as the Middle East, and how the moving image has functioned throughout its history, charged with division, political tension, and mobilization. This 5-DVD box set has an accompanying monograph with curator's essay, and features important work by 24 artists including Guy Ben-Ner, Harun Farocki, Mona Hatoum, Walid Raad, and Elia Suleiman. Many of the titles on Radical Closure are being made available to educational audiences for the first time.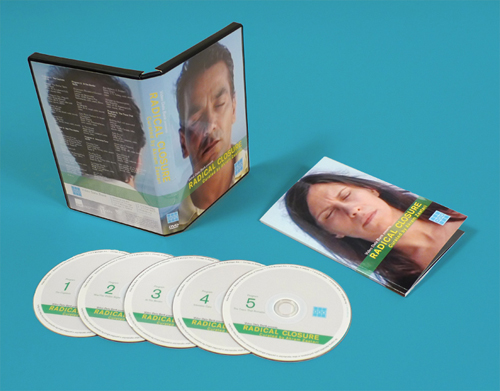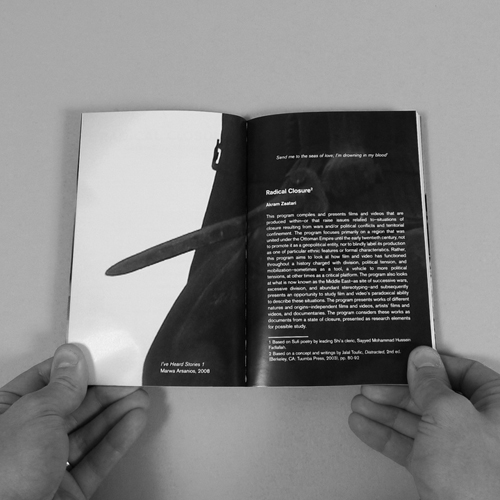 Included Titles
This first program deals with stories of captivity. To start, Hostage: The Bachar tapes by Walid Raad presents us with an imagined hostage presumably held in custody along with the American hostages in Lebanon during the 1980's. Raad's work reflects...

Collection: Curated Compilations

Tags: autobiography, crime or violence, diary, documentary, environment, family, jewish, landscape, media analysis, middle east, politics, sexuality, war

This program presents different approaches to looking at war, and to using images of war. My Friend Imad and the Taxi is an unfinished work from two amateur filmmakers, both passionate about film, who lived in Beirut in the eighties when the city...

Collection: Curated Compilations

Tags: european film/video, experimental film, family, future, media analysis, middle east, music, photography, politics, surveillance, war

Border situations have inspired writers, artists and filmmakers, particularly within the context of divisions and border control within the Middle East. Who draws the borders? What are the effects of imposing them, of imposing checkpoints? This...

Collection: Curated Compilations

Tags: body, eastern european, family, landscape, middle east, war

Named after Hatice Güleryüz's haunting short film, with its disturbing yet iconic images, this program presents unsettling situations narrated with both considerable emotional investment and critical distance. In her work Intensive Care, Güleryüz...

Collection: Curated Compilations

Tags: animation, body, eastern european, expedition/travel, history, middle east, music, performance, politics, youth/childhood

How useful is personal testimony to History? The most abstract of all the works that focus on personal narrative in this program is certainly Lisa Steele's Birthday Suit with scars and defects, in which the artist gently caresses every scar on her...

Collection: Curated Compilations

Tags: architecture, body, expedition/travel, family, feminism, middle east, politics, post-colonialism
Exhibitions + Festivals
Originally presented at Internationale Kurzfilmtage Oberhausen.
DVD box set launch October 2010 at e-flux, New York and November 2010 at Whitechapel Gallery, London
Related Content